Hair, scalp and other benefits
Aromatic Description: Herbal, woody, slightly sweet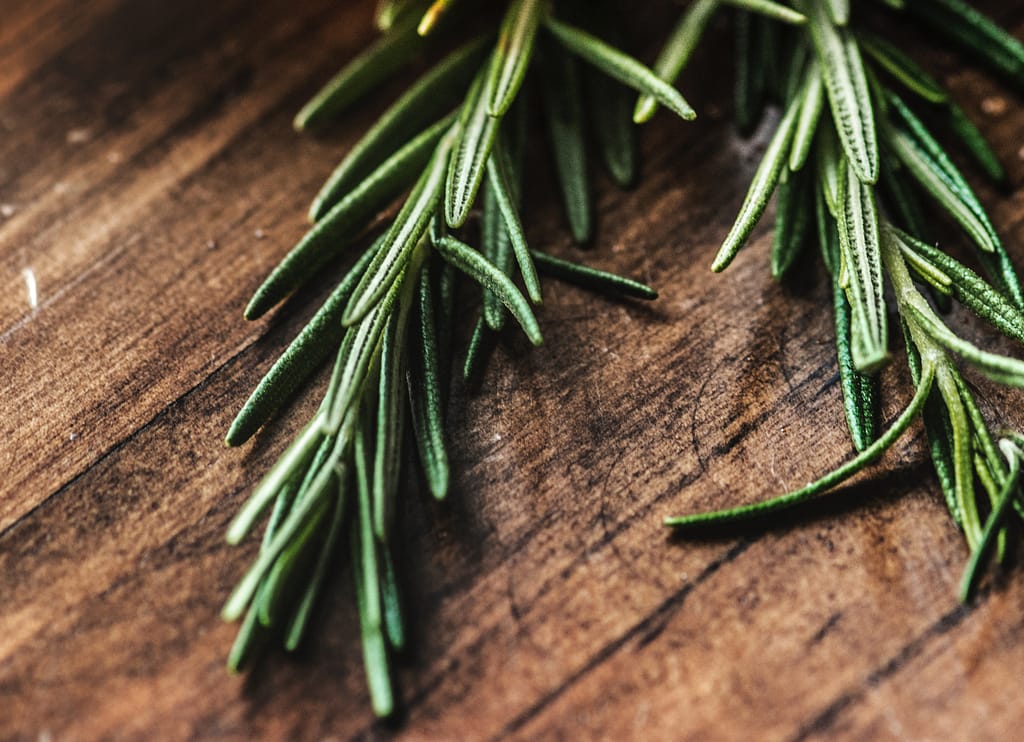 Origin of Rosemary Oil
Years of using store bought shampoos and conditioners can often leave your hair damaged and brittle. Using the wrong products for your scalp can lead to hair loss and thinning. It can also lead to fungal growth, which causes dandruff and itchiness. Rosemary Oil is known for its many benefits to the health of the scalp and hair.
Rosemary Oil is distilled from the green pointed leaved of the Rosmarinus Officianalis plant. The word "Rosemary" is derived from Latin, meaning " dew of the sea". The plant is green, woody, perennial herb of the mint family Lamiacea. When the Rosemary plant flowers, the petals are purple, white or blue, depending on the specific variety.
Culturally the plant is known to have been used during weddings as a love charm, or a symbol of fidelity and a reminder to the groom that he is meant to remain faithful.
There's rosemary, that's for remembrance.

In Hamlet by Shakespeare
Most commonly Rosemary is used as a herb in cooking, in many cultures around the world. It can be found on most kitchen herb racks, in fresh, dried or oil form. It's easy to grow, both indoors and outdoor, however the plant prefers milder climate so it does best inside your home or in a greenhouse.
Rosemary Essential Oil, not to be confused by cooking rosemary oil, has many medical and beautifying properties which if used right, can make your hair healthy, shinny and moisturised all the way through to its ends.
How does Rosemary Oil Improve your hair and scalp
Benefits of Rosemary Oil
Counteracts any skin infections or fungal infections which are known to cause dandruff, itchiness and hair loss
Restores the health of the skin on your scalp which in returns improves overall quality of the hair
Softens and conditions the hair
Increases hair thickness and fullness
Helps to speed up hair growth due to improving blood circulation on the scalp
Prevents premature greying due to age or hormonal conditions
Helps to slow down ageing of the hair
If used topical, mixed with a carrier oil, it can help with skin conditions, like eczema, psoriasis and others.
If used in a humidifier or oil burner it can act as a natural painkiller, relieving muscle pain.
Rosemary Oil is also known to have insect repellent properties.
How Does Rosemary Oil Work
Rosemary oil works as a natural antiseptic on the skin. Research is still been carried out to investigate how does rosemary oil targets skin infections. What we know so far is that Rosemary Oil has a very positive effect on scalp fungus, killing the bacteria, which in turn relieves itching and flaking, also known as dandruff. This particular oil restores the natural moisturising properties of the skin, allowing it to reach the ends of your hair more effectively without causing excess production of skin oil.
Rosemary Oil contains a high percentage of antioxidants that can fight off free radicals in the body. One of these antioxidants is called Carnasol, which can reduce inflammation of the body's cells. This prevents or heals diseases in the hair follicles, that can lead to hair loss or thinning of the hair, preventing future baldness. It fights fungal infections, acne and eczema on the scalp, often known to lead to dandruff if left as is. Rosemary Oil improves circulation of blood in the scalp, and restores natural moisture levels, which improves the health of the skin, allowing vital elements to reach the entire length of the hair, lowering breakage and split ends.
How to use Rosemary Oil
Add to your hair care products
Rosemary Oil can be added to your shampoo, lowering the harsh effects some store both products have on our hair and scalp health. This is the least time consuming way of adding Rosemary Oil to your scalp.
Add 10-12 drops of Rosemary Essential Oil for every 30ml of shampoo. Please be aware that the rosemary oil smell, would slightly overpower the fragrance of your shampoo with the herby, woodland smell of the herb.
Oil Treatment Mask
Add 3-4 drops of Rosemary Essential Oil to 1tbsp of sweet almond oil. Rub the mixture on your scalp and leave for 30 mins. Wash hair as normal.
Precautions when using Rosemary Oil
Even though it is derived from natural ingredients, Rosemary Oil can still have negative effects in certain circumstances. Care should be taken when using most oils, but if you do suffer from any of the following conditions, its best to avoid use of this particular oil.
If you are pregnant, Rosemary Oil should be avoided due to risk of miscarriage. This oil can stimulate menstruation or affect the uterus.
Rosemary Oil is known to impact heart medication, therefore if you suffer from high blood pressure and take medicine for it, it's best to avoid Rosemary Oil.
If you have Crohn's Disease, ulcers, or ulcerative colitis, it is advised to check with a healthcare professional before using Rosemary Oil on your scalp.
If you notice any allergic reactions or rash during use, discontinue using immediately and seek medical attention.
Rosemary Oil, same as all other essential oils, should not be used on your skin undiluted, due to risk of skin sensitivity or a burning sensation. Carrier oil is to be used before applying to the skin, this could be jojoba oil, coconut oil, sweet almond oil or others.
Rosemary herb is safe to use in food in small amounts, however it is not to be ingested in its pure oil form, due to its concentration.
This information is not presented by a medical practitioner and is for educational and informational purposes only. Readers are cautioned to rely on their own personal judgment about their individual circumstances and act accordingly. Always seek the advice of a qualified medical professional with any questions you may have regarding a medical condition.